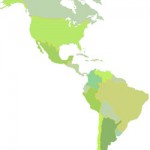 City innovation classifications and rankings 2011 for USA, Canada and South America. World's largest city classification and global ranking with 117 Americas cities (86 USA, 14 Canada, 17 South America)  from 331 benchmark cities classified, and with top cities ranked in 2011. Based on 2thinknow analysis of cities on 162 city indicators from 2thinknow City Benchmarking Data program. Established 2007. 2011-INDEXES > TOP 100 | AMERICAS | EUROPE | ASIA | EMERGING | GLOBAL | ALL YEARS View current Media Release + Read the 2011 FAQ
| | | | | | |
| --- | --- | --- | --- | --- | --- |
| REGION RANK | CITY | STATE | COUNTRY | GLOBAL RANK | CLASSIFICATION |
| 1 | Boston | Massachusetts | United States | 1 | 1 NEXUS |
| 2 | San Francisco Bay Area | California | United States | 2 | 1 NEXUS |
| 3 | New York | New York | United States | 4 | 1 NEXUS |
| 4 | Toronto |   | Canada | 10 | 1 NEXUS |
| 5 | Seattle | Washington | United States | 25 | 1 NEXUS |
| 6 | Los Angeles | California | United States | 29 | 1 NEXUS |
| 7 | Montréal |   | Canada | 31 | 1 NEXUS |
| 8 | Philadelphia | Pennsylvania | United States | 33 | 1 NEXUS |
| 9 | Chicago | Illinois | United States | 34 | 2 HUB |
| 10 | Washington DC | District of Columbia | United States | 35 | 2 HUB |
| 11 | Vancouver |   | Canada | 49 | 2 HUB |
| 12 | Austin | Texas | United States | 51 | 2 HUB |
| 13 | Denver | Colorado | United States | 54 | 2 HUB |
| 14 | Minneapolis-St Paul | Minnesota | United States | 55 | 2 HUB |
| 15 | Orlando | Florida | United States | 56 | 2 HUB |
| 16 | Portland | Oregon | United States | 60 | 2 HUB |
| 17 | Ann Arbor | Michigan | United States | 72 | 2 HUB |
| 18 | Raleigh-Durham | North Carolina | United States | 73 | 2 HUB |
| 19 | Dallas-Fort Worth | Texas | United States | 76 | 2 HUB |
| 20 | Québec |   | Canada | 79 | 2 HUB |
| 21 | Calgary | Alberta | Canada | 81 | 2 HUB |
| 22 | Houston | Texas | United States | 87 | 2 HUB |
| 23 | Pittsburgh | Pennsylvania | United States | 92 | 2 HUB |
| 24 | Jacksonville | Florida | United States | 94 | 2 HUB |
| 25 | Baltimore | Maryland | United States | 95 | 2 HUB |
| 26 | Atlanta | Georgia | United States | 97 | 2 HUB |
| 27 | Tallahassee | Florida | United States | 98 | 2 HUB |
| 28 | San Diego | California | United States | 99 | 2 HUB |
| 29 | Kansas City | KO/MO | United States | 101 | 2 HUB |
| 30 | Newark | New Jersey | United States | 103 | 2 HUB |
| 31 | Tampa | Florida | United States | 105 | 2 HUB |
| 32 | Edmonton |   | Canada | 107 | 3 NODE |
| 33 | São Paulo |   | Brazil | 109 | 3 NODE |
| 34 | Boise | Idaho | United States | 110 | 3 NODE |
| 35 | Boulder | Colorado | United States | 116 | 3 NODE |
| 36 | Honolulu | Hawaii | United States | 117 | 3 NODE |
| 37 | Springfield | Massachusetts | United States | 118 | 3 NODE |
| 38 | Miami | Florida | United States | 119 | 3 NODE |
| 39 | Providence | Rhode Island | United States | 121 | 3 NODE |
| 40 | Oakland | California | United States | 123 | 3 NODE |
| 41 | Madison | Wisconsin | United States | 124 | 3 NODE |
| 42 | Birmingham | Alabama | United States | 125 | 3 NODE |
|   | Buffalo | New York | United States |   | 3 NODE |
|   | Charlotte | North Carolina | United States |   | 3 NODE |
|   | Charlottesville | Virginia | United States |   | 3 NODE |
|   | Cleveland | Ohio | United States |   | 3 NODE |
|   | Colorado Springs | Colorado | United States |   | 3 NODE |
|   | Des Moines | Iowa | United States |   | 3 NODE |
|   | Las Vegas | Nevada | United States |   | 3 NODE |
|   | Manchester | New Hampshire | United States |   | 3 NODE |
|   | Memphis | Tennessee | United States |   | 3 NODE |
|   | Milwaukee | Wisconsin | United States |   | 3 NODE |
|   | Nashville | Tennessee | United States |   | 3 NODE |
|   | Phoenix | Arizona | United States |   | 3 NODE |
|   | Riverside | California | United States |   | 3 NODE |
|   | Rochester | New York | United States |   | 3 NODE |
|   | Salt Lake City | Utah | United States |   | 3 NODE |
|   | San Antonio | Texas | United States |   | 3 NODE |
|   | Savannah | Georgia | United States |   | 3 NODE |
|   | St Louis | Missouri | United States |   | 3 NODE |
|   | Bridgeport | Connecticut | United States |   | 3 NODE |
|   | Buenos Aires |   | Argentina |   | 3 NODE |
|   | Charleston | South Carolina | United States |   | 3 NODE |
|   | Cincinnati | Ohio | United States |   | 3 NODE |
|   | Curitiba |   | Brazil |   | 3 NODE |
|   | Detroit | Michigan | United States |   | 3 NODE |
|   | Fort Lauderdale | Florida | United States |   | 3 NODE |
|   | Fresno | California | United States |   | 3 NODE |
|   | Grand Rapids | Michigan | United States |   | 3 NODE |
|   | Green Bay | Wisconsin | United States |   | 3 NODE |
|   | Hartford | Connecticut | United States |   | 3 NODE |
|   | Oklahoma City | Oklahoma | United States |   | 3 NODE |
|   | Richmond | Virginia | United States |   | 3 NODE |
|   | Rochester | Minnesota | United States |   | 3 NODE |
|   | Sacramento | California | United States |   | 3 NODE |
|   | Syracuse | New York | United States |   | 3 NODE |
|   | Albuquerque | New Mexico | United States |   | 3 NODE |
|   | Augusta | Georgia | United States |   | 3 NODE |
|   | Cedar Rapids | Iowa | United States |   | 3 NODE |
|   | Chattanooga |   | United States |   | 3 NODE |
|   | Columbus | Ohio | United States |   | 3 NODE |
|   | El Paso | Texas | United States |   | 3 NODE |
|   | Fredericton - St John | New Brunswick | Canada |   | 3 NODE |
|   | Halifax |   | Canada |   | 3 NODE |
|   | Indianapolis | Indiana | United States |   | 3 NODE |
|   | London |   | Canada |   | 3 NODE |
|   | Mexico City |   | Mexico |   | 3 NODE |
|   | New Orleans | Louisiana | United States |   | 3 NODE |
|   | Omaha | Nebraska | United States |   | 3 NODE |
|   | Ottawa |   | Canada |   | 3 NODE |
|   | Rio De Janeiro |   | Brazil |   | 3 NODE |
|   | Springfield | Illinois | United States |   | 3 NODE |
|   | Toledo | Ohio | United States |   | 3 NODE |
|   | Tucson | Arizona | United States |   | 3 NODE |
|   | Winnipeg |   | Canada |   | 3 NODE |
|   | Bozeman | Montana | United States |   | 4 INFLUENCER |
|   | Brasilia |   | Brazil |   | 4 INFLUENCER |
|   | Hamilton |   | Canada |   | 4 INFLUENCER |
|   | Kitchener |   | Canada |   | 4 INFLUENCER |
|   | Lexington | Kentucky | United States |   | 4 INFLUENCER |
|   | Little Rock | Arkansas | United States |   | 4 INFLUENCER |
|   | Louisville | Kentucky | United States |   | 4 INFLUENCER |
|   | Moncton | New Brunswick | Canada |   | 4 INFLUENCER |
|   | Monterrey |   | Mexico |   | 4 INFLUENCER |
|   | Panama City |   | Panama |   | 4 INFLUENCER |
|   | Reno | Nevada | United States |   | 4 INFLUENCER |
|   | Springfield | Missouri | United States |   | 4 INFLUENCER |
|   | Tulsa | Oklahoma | United States |   | 4 INFLUENCER |
|   | Belo Horizonte |   | Brazil |   | 4 INFLUENCER |
|   | Cordoba |   | Argentina |   | 4 INFLUENCER |
|   | Porto Alegre |   | Brazil |   | 4 INFLUENCER |
|   | Guadalajara |   | Mexico |   | 4 INFLUENCER |
|   | Lima |   | Peru |   | 5 UPSTART |
|   | Montevideo |   | Uruguay |   | 5 UPSTART |
|   | Santiago |   | Chile |   | 5 UPSTART |
|   | San Juan |   | Puerto Rico |   | 5 UPSTART |
|   | Bogotá |   | Colombia |   | -- |
Key to index.
All cities are graded into award categories based on their index score. In descending order of importance to the innovation economy: NEXUS: Critical nexus for multiple economic and social innovation segments HUB: Dominance or influence on key economic and social innovation segments , based on global rends NODE: Broad performance across many innovation segments, with key imbalances INFLUENCER: Competitive in some segments, potential or imbalanced UPSTART: Potential steps towards relative future performance in a few innovation segments Regions are defined as follows: AMERICAS: North and South America EUROPE: The U.N. defined Europe with European union, Western Russia, Israel and major Turkish cities ASIA: Asia and Oceania (Australia/NZ) EMERGING: Mid-East, Africa, Turkey and Caucasus states
Full details
Purchase City Benchmarking Data to measure a single city or compare cities. Read the analyst city report to understand how to build urban innovation economies. Or place an annual subscription for an affordable full package of analysis.
Methodology in brief:
The Index is the most comprehensive city ranking and scoring. Each city was selected from 1,540 cities based on basic factors of health, wealth, population, geography. The selected 331 cities had data extracted the city benchmarking data program on 162 indicators. Each of the benchmarking data were scored by analysts using best available qualitative analysis and quantitative statistics (see City Benchmarking Data to purchase city data). Where data was unavailable, national or state estimates were used. Data was then trend balanced against 21 global trends, by analysts.For the final index had a zeitgeist (analyst confidence) factor added, and score reduced to a 3 factor score for Cultural Assets, Human Infrastructure and Networked Markets. For city Classification, these scores were competitively graded into 5 bands (Nexus, Hub, Node, Influencer, Upstart) The top 33% of Nexus and Hub ( and selected Node cities of future interest)  final graded scores were ranked by analysts based on trends over 2-5 years. From this global Index, 4 regional indexes for Americas, Europe, Asia and Emerging are also produced. Please note the full list above is classified (Node, Influencer, Upstart) not ranked except wher a rank is noted. Rankings are just for general information. A node ranking is considered globally competitive. More discussion and questions answered in this FAQ. For more details on methodology, please see the FAQ or order the Innovation Cities Analysis Report.
Reproduction of this list:
The indexes and supporting materials are copyright and used under license by 2thinknow. You may reproduce the statistics and indexes in any reasonable form, graphics, or data mash-up as long as you attribute it to 2thinknow and do not modify the numbers or otherwise mislead. The easy correct way to do this is as follows: Source: 2thinknow Innovation Cities™ Program: www.innovation-cities.com [or the link of the page you are referencing] 2thinknow do reserve all rights, including the right to ask content to be removed.
About 2thinknow Innovation Cities™ Program:
Based in Melbourne Australia, 2thinknow are the world's first innovation agency. Established 2006 we have  designed original  models to measure and deliver innovation to cities, business seeking new markets and growth, and NGO/government clients. 2thinknow Innovation Cities Program to provide powerful tools for creating an innovation economy. This includes the city benchmarking data details on cities by segment globally, recently launched local innovation forum events, analyst reports such as the flagship Innovation Cities™ Analysis Report In 2011, in the Innovation Course, we are teaching our clients new innovation methods and practices. 2thinknow work with other clients through innovation consulting, analyst reports, projects  and innovation services, as well as a number of online resources and groups. Since 2009, 2thinknow as world's first innovation agency have classified cities for broad-based innovation. 2thinknow have published the Innovation Cities Indexes city rankings free online since 2007, when they started with a very small 22 cities. This is now 331 cities in the 2011 year, and is the world's largest and most diverse city ranking. Contact 2thinknow here: http://innovation-cities.com/enquire// or via twitter @2thinknow