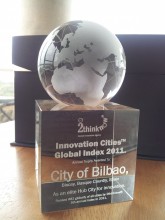 Reward your cities innovation success each year.
2thinknow, publisher of the Innovation Cities™ Indexes each year issues award trophies to the world's innovation cities. These are available to service package subscriber clients and for order online.
Trophies are attractive clear crystal engraved with:
Innovation Cities Index and Year
Name of the City, and details
Classification
Ranking
Any other awards
Eligibility
The current names of cities eligible for each year are listed by year — view the Indexes here.
All cities listed can receive a certificate and trophy in their classification and rank for each year they are listed since 2007.
Service Package Clients
To automatically receive a city trophy, cities can purchase a silver or platinum service package.
Award presentations
Should you like to organize a city innovation event with an award presentation to your Mayor or dignitaries, please contact us. This can be arranged to include a speech or city visit.
Ordering trophies.
Premium subscribers automatically receive trophies upon shipping. For non-subscribers, trophies can be ordered for top 100 cities. Printed certificates available and can also be ordered for all cities. >