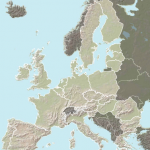 The following cities are long-listed for the Innovation Cities Index 2009 in the European Union & UK, Israel, Turkey, Russia, and Europe-facing  former Soviet Union States bordering European Union.
This is 1 of 4 regions, the others being Americas, Asia & Emerging.
European Cities.
The Innovation Cities Index 2009 will be published 28 July 2009, in summary worldwide in the 'Innovation Cities Analysis Report' – also known as the 'Green Book'.
The 'Innovation Cities Analysis Report' and Single City Data Sets – for any of 256 cities are available for pre-order now, at a discount until June 30.
From this list in the Innovation Cities Index, European Regional Winners and Global Winners will be selected – as well as Global Cities of Excellence. European cities have featured in 2008 and 2007.
City
Country
State/Areas
Aachen
Germany
Amsterdam
Netherlands
Antwerp
Belgium
Athens
Greece
Barcelona
Spain
Basel
Switzerland
Bath & NE Somerset
UK
Belfast
UK
Belgrade
Serbia
Berlin
Germany
Bern
Switzerland
Bilbao
Spain
Bologna
Italy
Bonn
Germany
Bordeaux
France
Bratislava
Slovakia
Bristol
UK
Brussels
Belgium
Bucharest
Romania
Budapest
Hungary
Cannes
France
Cote d'Azur
Cologne
Germany
Copenhagen
Denmark
Coventry
UK
Dortmund
Germany
Dresden
Germany
Dublin
Ireland
Dubrovnik
Croatia
Düsseldorf-Neuss
Germany
Edinburgh
UK
Essen
Germany
Florence
Italy
Frankfurt-Offenbach
Germany
Gdansk
Poland
Geneva
Switzerland
Gent
Belgium
Glasgow
UK
Gothenburg
Sweden
Granada
Spain
Graz
Austria
Hamburg
Germany
Hannover
Germany
Helsinki
Finland
Istanbul
Turkey
Jerusalem
Israel
Karlsruhe
Germany
Katowice
Poland
Kiel
Germany
Kosice
Slovakia
Kraków
Poland
Leeds
UK
Leipzig
Germany
Liège
Belgium
Linz
Austria
Lisbon
Portugal
Liverpool
UK
Ljubljana
Slovenia
London
UK
Lucerne
Switzerland
Lyon
France
Madrid
Spain
Málaga
Spain
Manchester
UK
Marseille
France
Milan
Italy
Modena
Italy
Montpellier
France
Moscow
Russia
Munich
Germany
Nantes
France
Nice
France
Nuremberg
Germany
Oporto
Portugal
Oslo
Norway
Padova
Italy
Pamplona
Spain
Paris
France
Parma
Italy
Prague
Czech Republic
Reims
France
Reykjavik
Iceland
RIGA
Latvia
Rome
Italy
Rotterdam
Netherlands
Salzburg
Austria
Seville
Spain
Sheffield
UK
Skopje
Macedonia
Sofia
Bulgaria
Solingen
Germany
St Petersburg
Russia
Stockholm
Sweden
Strasbourg
France
Stuttgart
Germany
Tallinn
Estonia
The Hague
Netherlands
Timisoara
Romania
Tirana
Albania
Torino
Italy
Toulouse
France
Trieste
Italy
Utrecht
Netherlands
Valencia
Spain
Venice
Italy
Verona
Italy
Vienna
Austria
Vilnius
Lithuania
Warsaw
Poland
Weimar
Germany
Wiesbaden
Germany
Zagreb
Croatia
Zürich
Switzerland
NOTE: