< Back to Index Home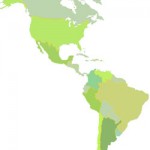 Americas cities ranking 2019 & city classification from 12th annual Innovation Cities™ Index by 2thinknow city ranking for USA, Canada, plus Mexico and South America (Latin America).
2thinknow city ranking for innovation since 2007.
Part of the world's largest global city ranking, the Innovation Cities™ Index, with 500 benchmark cities classified and ranked globally, featuring 171 cities in Americas region (118 USA, 14 Canada, 39 Latin America) this year.
FAQ
162 City Indicators
Data on 1 City
Data Comparing Cities
Index Resources