Are you an innovator? Are you looking to create innovation, compare global cities performance, or plan for innovation in your city?
The Innovation Cities™ Index is the original, largest and longest-running city ranking for innovation. Published since 2007. Seen in worldwide media in 100+ countries in 500+ languages. . Designed by innovators at 2THINKNOW.
We aim to measure innovation in areas that matter to you.
See the new regional, global (NAFTA, G8, G20, ASEAN, EU27 etc.) city rankings!
Adjusted for City Trends
Which areas are competing cities most interested in innovating in now?
According to our last survey and ongoing intelligence, peer city leaders are most interested in these different types of innovation. Areas change year to year.
The Innovation Cities™ Index helps you compare, measure and improve in all innovation areas. Register with updates > for the full list.
You can focus only on innovation that matters to you, and your stakeholders.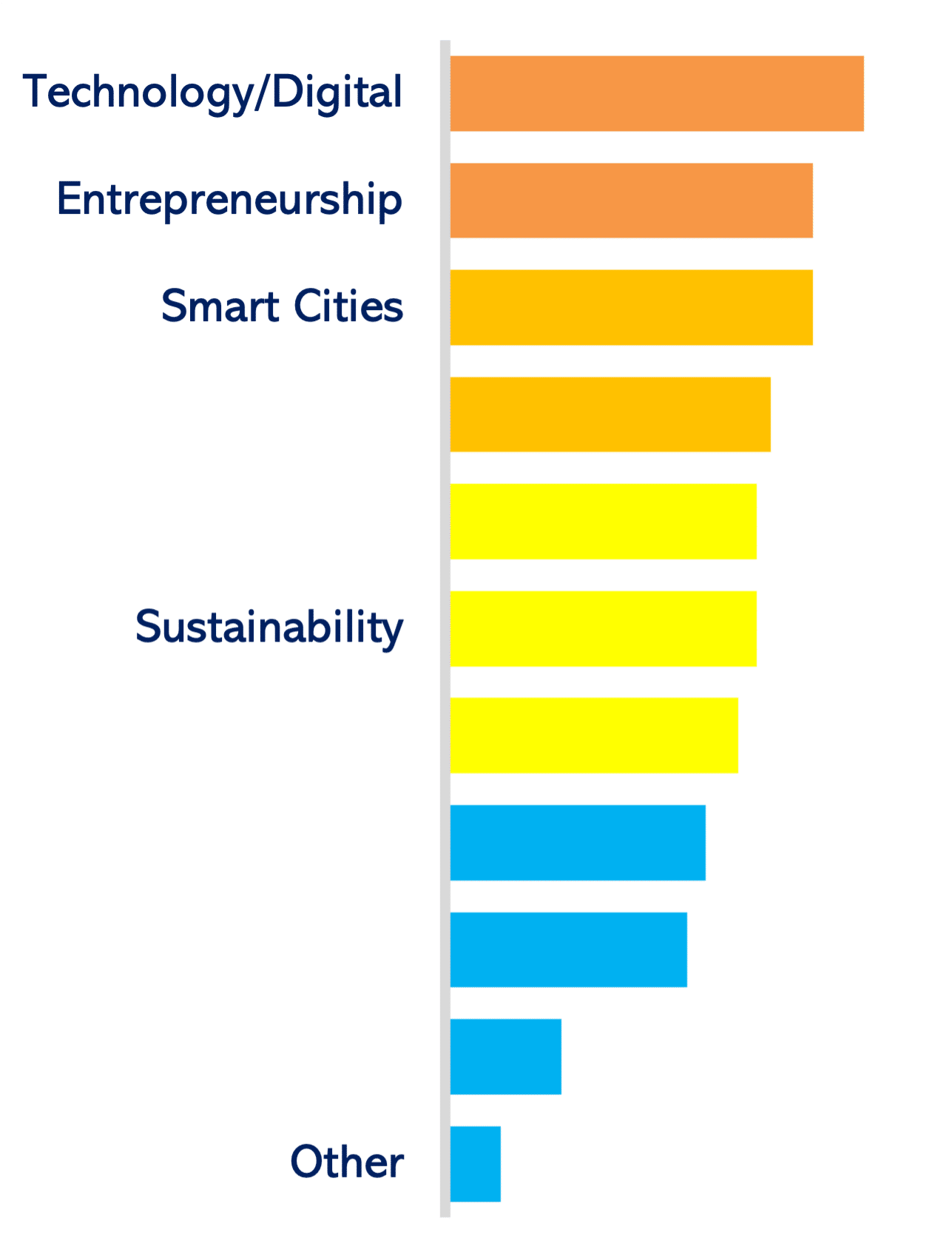 On your peer cities current priorities (and to get the 500 city ranking download).
Are you in City Government?
Get your  free further 1-on-1 analysis of your city's innovation performance.
2THINKNOW have worked with many of the world's most famous cities, to help them measure and improve.
Do you use City Data for Business?
Order the neat missing data you need to compare cities, build dashboards, analysis, data models and scorecards.
Join our MBB, consulting and business clients globally.

Original Method
Structured Data Approach
14 Years Research & Development.
The original and still only truly quantitative city ranking based on this approach.
Order only the raw data points you need from the 'City Benchmarking Data' set. 1000s of standardized data points for any city.
To understand a cities performance, order any mix of 162 indicators you need. Each indicator has 2-10 data points.
2thinknow's 31 Segments Model are 31 more modern industry codes for reporting purposes. They help you classify city activities, and are used in any analysis reports you purchase.
The 3 Factors are the underlying original model that helps you measure how a city handles innovation as ideas move from implemented, to 'global'.
Get Data to Compare Cities
Our revenue comes from business order underlying market data from us. Business invests in competing cities with 2thinknow City Benchmarking Data. Uses of our data include: site selection, infrastructure models, retail sales, identifying customers, improved trade, city rankings, data models of all kinds, other investment, R&D and innovation purposes.
Order data sets on any mix of cities listed.

Available since 2007, and every year 2thinknow analysts improve the data, analysis, rankings and classifications.
Featuring all major global cities balanced across regions, makes this the world's largest and most diverse city index.
Each year since 2009, 2thinknow publish 4 regional indexes, as well as the headline global index, to measure regional competing cities.
2THINKNOW are seeking the right global consulting firm partner to license the full Innovation Cities™ Index process.
Excellent door-opener to sell consulting services for a large multi-national consultancy. Will only be considered if you have a full multi-office marketing capability. We license you the door-opening ability to sell services to banking & insurance, telcos, public health, transport authorities, government, infrastructure, municipalities and 25 other prime client sectors in 500 cities. Setup, updates, training provided for bolt-on revenue generator. Reach out to our Director to discuss directly.
We love cities, you love your city.
Resources to improve your city innovation performance & city brand. Includes data, reports & training.