< Back to Index Home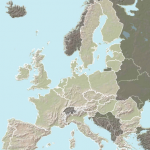 Europe cities ranking 2019 & city classification from 12th annual Innovation Cities™ Index by 2thinknow city ranking for Europe, UK, Russia, Turkey & Israel.
2thinknow city ranking for innovation since 2007.
Part of the world's largest global city ranking, the Innovation Cities™ Index, with 500 benchmark cities classified and ranked globally, featuring 168 cities classified in Europe region (122 Continental Europe, 17 UK, 20 Russia and 9 in Israel & Turkey*) this year.
FAQ
162 City Indicators
Data on 1 City
Data Comparing Cities
Index Resources
*Cities in Israel & Turkey are classified in Europe region for development reasons, but classified in Mid-East at sub region geographic level.